The European Union co-finances information and promotion programmes for agricultural products on the internal market and in third countries in accordance with Regulation (EU) 1144/2014 of the European Parliament and the Council.
These rules lay down the procedure, the agricultural products covered by these programmes and the countries in which they may be developed. Article 20 of Regulation (EU) No 1144/2014 sets out the procedure for selecting the implementing body responsible for implementing the programmes.
For the definition and execution of these programmes, the POTENTIAL CONTRACTING ENTITIES hereinbelow seek the collaboration of promotion agencies that will work on the development and execution of the promotion activities incorporated into the programmes if they are finally granted European funding. To this end, a selection process is now initiated, calling for tenders to those agencies who wish to participate and which, on the basis of their merits and experience, could contribute most to the promotion objectives pursued by the POTENTIAL CONTRACTING ENTITIES.
POTENTIAL CONTRACTING ENTITIES are interested in submitting a program linked to the 2019 CALL FOR PROPOSALS MULTI PROGRAMMES for Grants to information provision and promotion measures concerning agricultural products implemented in the internal market and in third countries in accordance with Regulation (EU) No 1144/2014 of the European Parliament and of the Council (2019/C 18/05), and are selecting subcontractor(s) to develop the so-called "European Garnacha/Grenache Quality Wines Multi Program in US" ("the potential program").
1. Type of Tender: Open Call for Tender.
2. Potential Contracting entities:
a) ASOCIACION PARA LA PROMOCION DEL VINO DE GARNACHA – "GARNACHA ORIGEN".
VAT No. ES-G99398935
Address : Avda/ Ranillas, 3A, Planta 2, Oficina A, 50018 Zaragoza, Spain
Contact person: Ms Sofía González.
b) CONSEIL INTERPROFESSIONNEL DES VINS DU ROUSSILLON ("CIVR")
VAT No. FR11434310300019
Address : 19, Avenue de la Grande Bretagne. 66006 Perpignan, France.
Contact person: M. Eric Aracil
3. Type of Agreement: Services Agreement
4. Overall Target: Promotion of European Garnacha/Grenache Wines in the US.
5. Target markets: United States of America.
6. Description of Services to be provided by the selected subcontractors: complete preparation, implementation and periodic reporting for the following activities:
General activities (including samples, viasuals, materials, preparation, production, implementation and periodic reporting):Fairs (Vinexpo, SommCon, etc.) ( 1.906.000,00 € ) for the promotion of European Quality Garnacha/Grenache Wines:

In-store tastings (3 h demos), minimum 900 per year.
Press trips
Trade trips
Walk-around/ roadshows
Website
Social media
Evaluation ( 68.000,00 € )
European Garnacha/Grenache International Contest in NY Spring 2020 ( 745.000,00 €), including all related costs, specifically (but not exclusively):

80 quality members of the jury (trade & press: 63 from US, 14 from Canada, 1 from Italy, Spain and France, respectively), with 16 experienced table coordinators.
5 pax/table, 1 somm per table, 2 days +2 backstage bottle prep
16 tables & 80 chairs for the jury
100 spittons to be frequently changed/cleaned
Blind tasting stickers (CHAFEAvisuals)
Venue (2 days minimum duration) with a seminar room for 100 people, tasting room for the contest (competition tasting hall), backoffice, warehouse, wine coolers/cellar, reception area, etc.)
Sufficient washrooms for the jury & staff
Catering for all sessions
Accommodation and travel costs for the jury (3 nights)
Consumer event to present medals and all participating wines (European Garnacha/Grenache gala consumer & PR night)

2 cups/pax, backlit tables for 800-1000 samples

Recap video of the contest
Official photographer
PR diffusion before, during and after the contest (dossier elaboration)
Scoring and clasification digital system (100 tablets)
IT responsible in-place
Sample management and shipment (1000 SKUs, 6 bottles each)
Material & decoration design and production following CHAFEA visual regulation.
Gifts and other jury elements (informative dossier, lanyard ID, planning, etc.)
Adecuate wine glasses (500/day): for whites, rosés, reds, VDN & sparkling
Suggested structure of the contests:

Day 1: arrival, briefing, seminar abour the varietal and welcome dinner:
Day 2: table pressidents brief, 1st tasting & scoring session, meal, technical seminars in the afternoon and dinner.
Day: 2nd tasting & scoring session, meal, Gala event for the jury, consumers and PR.
Examples of previous editions at:

https://vimeo.com/154405857
https://vimeo.com/204657542
https://vimeo.com/176764677
https://vimeo.com/100791828

Chosen contest subcontractor must attend Spring 2019 edition (April 17th-18th 2019  at Roussillon, France) at their own cost to experience the event and its needs.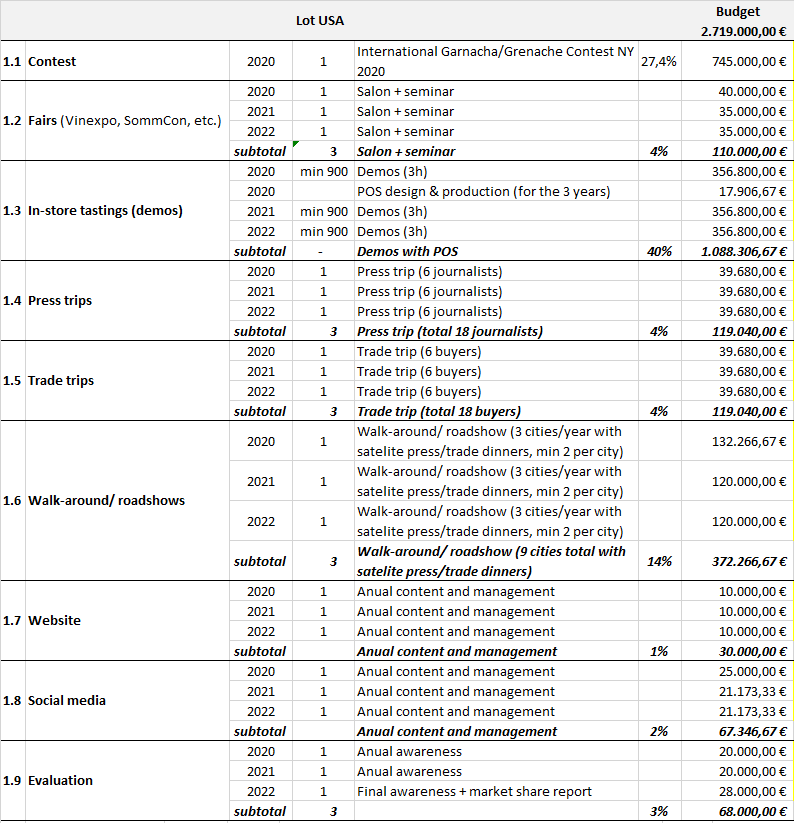 7. Implementation period: 2020-2022.
8. Agreement Term: the Agreement Term will be longer than the implementation period, to allow performance of some obligations surviving same and allowing Program preparation and evaluation.
9. Contract Budget:  2.719.000,00 € Euros.
2.651.000,00 € for the implemenation of activities.
68.000,00 € for Evaluation purposes.
10. Selection criteria of the implementing agency: best value for money while preventing situations where conflict of interest is deemed to occur. The selection of subcontractors will be based, scored and weighted according to the following criteria:
Cost effectiveness ……………………………………………… (40 points)
Professional experience of the team in the US………………… (30 points)
Experience and results in European co-funded projects ……. (20 points)
Experience and results in wine promotion campaigns …….. (10 points)
11. Deadline for obtaining information and documents: 22/02/2019 15:00 CET
12. Presentation of offers or requests for participation.
Deadline for submission of offers: 24/02/2019 23:59 CET

Documentation to submit (entirely written in English):

A letter of intent to bid on paper letterhead, dated and signed by the person authorized to bind the company.

Su

mmary of economical offer per activity following this template (please fill in the fields in yellow).
A detailed Action Plan proposal, including:

Description of the proposed activities and methodology to implement the actions (KPIs)
Stimated schedule
A detailed annual budget expressed in euros

Annexes for supporting documentation to substantiate existence, financial and technical capacity as well as experience:

A sworn statement on letterhead, dated and signed by the person authorized to bind the company, that the
candidate has not been banned from bidding or fall under any of the exclusion criteria listed in the basis of the 2019 Call for Multi Proposals, in accordance with Regulation (EU) No 1144/2014.
Certificates proving that the bidder is in order with regard to its tax and social obligations at 31 December of the previous year.
A statement of overall turnover and the turnover concerning the services to which the contract relates, executed over the past three years in the targeted markets.
A list of the main services provided in the past three years in the targeted markets and regarding the wine industry, including the amount, date and recipient (public or private).
Team presentation: names of those responsible and performers provide the requested service and professional qualifications (academic and / or professional experience);
Place of presentation: by email to be sent in time to the coordinator (

sofia.gonzalez@aragonexterior.es

) with the subjet "CALL FOR TENDERS – US".  Each bidder must ensure that the application is successfully submitted before the deadline.
This material must be delivered digitalized in a suitable support. This information should give the tenderer a fair idea of the match between their needs and the agencies' offers and the agencies' ability to manage a campaign co-financed by the European Union at both technical and administrative level.
Potential contracting entities will revise every proposal and ask the 3 top ranked finalists per category (WP) under the abovementioned criteria for a digital or in-person audiovisual presentation to be held in Zaragoza (Spain) on 27/02/2019 afternoon (17:00 – 20:00 CET).
13. Contract award: The award will be notified to participants by email and publication in the contracting entities ´websites within a maximum period of thirty (30) days from the deadline for submission of offers.
14. Conditions and next steps:
The aim of this competition is to apply for a promotion programme with European co-financing. The deadline foreseen by the European call implies that a firm and definitive response will not be possible before October 2019. As a result, the selected subcontractors must undertake to maintain the validity of their offer until then and it will not be possible to sign a contract before December 2019.
If funding from the European Union is not guaranteed, the competition will be declared null and void.
This tendering exercise is not remunerated: no financial compensation is provided to applicants whose bids result unsuccessful.
All information sent to successful applicants must be treated as strictly confidential and due to the institutional nature of the data cannot be used for other clients.
Once the final subcontractors are chosen by the end of february 2019, they undertake to assist the potential contracting entities in the preparation of the application for European funds in accordance with the requirements and scales presented in the 2019 CALL FOR PROPOSALS MULTI PROGRAMMES, as well as the information specified in the GUIDE FOR APPLICANTS of multi programmes for co-financing of information and promotion measures implemented in the internal market or in third countries.
Among other matters, but not exclusively, the collaboration will be based in the following sections:
Application form: Part B – Technical content

Section 2: Products/schemes and market analysis, SWOT
Section 3: Action objectives & KPIs
Section 4: Action strategy
Section 6: Description of activities and analysis of budget positions
Section 7: Measurement of results
Section 8: management structure

If the applicant is already managing a campaign by an operator in the same sector or a sector or entity which could give rise to a conflict of interest, that operator or entity must give an advance agreement for the applicant to participate in this tender. If this applicant is selected, an advance agreement is also required before accepting any future campaign from an operator in the same sector or from a sector or entity that may give rise to a conflict of interest.
Once the creative work of the successful applicant has been agreed and paid for, it becomes the property of the CONTRACTING ENTITIES without limitation of time or place, and this includes use for all methods of communication and media.
CONTRACTING ENTITIES reserve the right to use creative concepts (images, logos, slogans and domain names) within the context of their other campaigns and without time limitation.
The selected subcontractors must sign a contract with the CONTRACTING ENTITIES. Expenditure may not be incurred until a framework contract has been signed between the tenderer and CHAFEA and a contract between the tenderers and the successful agency.
15. Notice on EU funding: This call for tender is related to CHAFEA´s "Grants to information provision and promotion measures concerning agricultural products implemented in the internal market and in third countries in accordance with Regulation (EU) No 1144/2014 of the European Parliament and the Council" and subcontractors must comply all obligations and conditions applicable and set out in the Multi-Beneficiary Model Grant Agreement, as well as Regulation (EU) No 1144/2014 of the European Parliament and the Council related legislation, specifically covering liability, indemnification and confidentiality arrangements. 
Final elected implementing body and subcontractors must collaborate to fulfill all terms and conditions mentioned in abovementioned Grant Agreement, including, specifically, all the obligations and conditions in the following related EU regulations available at EC Funding & tender opportunities Portal:
Regulation (EU) No 1144/2014 of the European Parliament and of the Council of 22 October 2014 on information provision and promotion measures concerning agricultural products implemented in the internal market and in third countries and repealing Council Regulation (EC) No 3/2008.
Commission Delegated Regulation (EU) 2015/1829 of 23 April 2015 supplementing Regulation (EU) No 1144/2014 of the European Parliament and of the Council on information provision and promotion measures concerning agricultural products implemented in the internal market and in third countries
Commission Implementing Regulation (EU) 2015/1831 of 7 October 2015 laying down rules for application of Regulation (EU) No 1144/2014 of the European Parliament and of the Council on information provision and promotion measures concerning agricultural products implemented in the internal market and in the third countries
The relevant annual Commission Implementing Decision on the adoption of the work programme for the year in question in the framework of information provision and promotion measures concerning agricultural products implemented in the internal market and in third countries