By Hoke Harden
I was pleased when asked to conduct a seminar/tasting on European Garnacha-Grenache at FEAST Portland 2019. Not only am I an admirer of the grape variety and its incredibly diverse iterations, the amateur historian in me revels at the intricately intertwined story of European Garnacha's expansion, part and parcel of the Crown of Aragon's political and geographical power-sprawl across the Mediterranean.
Most Americans are neither knowledgeable of nor interested in history. Take Europe, for instance, where we can directly trace the expansion of Garnacha/Grenache as a major variety through the military, religious, political, and mercantile forces that created change.
The story begins with the Christian-driven Reconquista to reclaim the Iberian Peninsula from the 300 + years of Islamic/Moorish dominance. The tipping point came when powerful Castile allied with the military aggressiveness of Aragon: the marriage of Queen Isabella and King Ferdinand II. Yes, the selfsame royal couple who sent C. Colombo on his fateful journey.
Castile focused internally on the coalescing Iberian Peninsula but Aragon was expansion oriented and looked outward. The small but energetic state expanded to include nearby Catalonia, and became a maritime/mercantile power centered in Barcelona and stretching from Montpellier to Tarragona. But they didn't stop there. They kept expanding until they had spread to the Balearic Islands (Majorca), the North Coast of Africa, Sardegna, Corsica, Sicily, the Kingdom of Naples, southern Italy, even as far as Greece.
The territories of the Crown of Aragon included Lordships, Counties, Dukedoms, Principalities, Kingdoms, Marquisates and Protectorates, all interconnected with a bustling maritime/trade.
And what does this have to do with wine? Garnacha went with them. First the wines, then the vines, then the vineyards.
Garnacha, like Pinot Noir and Sangiovese, has an impressive ability to thrive, adapt, diversify, and mutate, so Garnacha had many faces: Grenache Blanc, Grenache Gris, Grenache Noir, and an old-vine version from harsh, hot, high elevation and drought-prone mountain areas, dubbed "velvety" from its astonishing intensity and deep, almost viscous, texture.
Grenache, it seemed, could do just about anything: sparkling, crisp and bright whites, delicious dry roses, light and lively fruity reds, big and bold reds for long aging, even charming dessert wines. So it spread and is now scattered across the globe. Yet 97% of its production still remains in its "homeland" (Europe). Our focus was on that homeland, from the hot, high valleys and plateaus of Aragon leading up to the towering Pyrenees to the area now known as the French Roussillon (which still identifies closely with their Catalunya heritage).
For our seminar we showcased Roussillon GIs Grenache with Spanish Garnacha from diverse PDOs, moving back and forth to emphasize the similarities and the differences from mutations, changes in geographic, climatic and soil conditions, and with an eye toward examining the stylistic expressions of different social/cultural influences.
Part I: Three Wines from Roussillon GIs
We began with a AOP Collioure rose, a white blend, and a red Grenache, made from vineyards close to the glittering blue ocean on foothill slopes arcing quickly up to the majestic Pyrenees. Bright, fruity, aromatic with pomegranate and peach, a slight saline snap from vineyards on slopes perched over the azure ocean, and a delightful finish of red fruits.
We continued with a AOP Cotes du Roussillon Blanc, a light, beguiling fruit and floral perfumed blend typical of Rousillon whites. Grenache Blanc is the sturdy base, Marsanne and Roussanne
present a nosegay of spring flowers. Malvoisie gives ripe peaches and melons, and Vermentino finishes out with a decidedly crisp acid snap.
Part II: Four Garnacha-Grenache Reds from their European Homeland
One outstanding feature of the Garnacha-Grenache grape variety is its amazing versatility. The varietal family includes Garnacha-Grenache Noir, Blanc, Velvety and Gris, and these thrive in highly disparate areas, often with radically different styles.
Here we focus on the Garnacha Tinta-Grenache Noir, and taste four different versions from four AOP/PDO: Calatayud, Campo de Borja, Terra Alta from Spain and Maury Sec from Roussillon. There's a wide spectrum of style represented here; indeed, the four wines range from conservative winemaking to audacious, even radical, expositions of fruit and spice.
PDO Calatayud 2017 100% Red Garnacha from 40 to 60 years old vines. This was a juicy, generous, berry-fresh delight at a surprisingly price, and it took the U.S. by storm. It transformed PDO Calatayud, a mainstay of Aragonese Garnacha, from "PDO Calatayud? Where's that?" to "PDO Calatayud? That's great!
PDO Campo de Borja 2017 100% Red Garnacha from 70 to 100 year old vines. Although one of the smaller wine regions, DO Campo de Borja produces some impressive Garnacha. The old vines are still trained the Roman way, looking like old gnarled miniature trees. Low yield, bunch planted vines in an arid landscape, water-stressed, with hot, sunny days and cold mountain nights… that's the recipe for a concentrated, intense, but nicely balanced red. Ripe red fruits slathered with new French oak, baking spices (clove, allspice), and tight tannins. Trivia: Campo de Borja is also famous for Popes. Borja. Borgia, in Italian. Yeah, those guys.
AOP Maury Sec 2016 80% Black Grenache, 20% Syrah from over 60 years old vines. Made by an eclectic winemaker who is also fiercely independent, dedicated to unique and individual wines expressive of place, tradition, and personal style.  From his small vineyard in AOP Maury Sec, he sources extremely old-vine Grenache Noir and mixes it with younger but also intense Syrah. His avowed "simple but not simplistic" style requires maceration in the skins, fermentation in stainless steel, and no use of wood.  The result is massively concentrated, intense and almost jammy fruit, spice, and herbs in a rich, silky coat.  Cherry, blackberry and dark plum (!), herbs (think rosemary bushes baking under a hot sun); vivid spices. bursting with flavor. A uniquely interesting and quite satisfying Grenache.
PDO Terra Alta 2016 100% Garnacha from up to 40 years old vines. DO Terra Alta is in the extreme southern part of Spanish Catalunya (NE) and reflects a maritime-influenced climate. this wine tempers the exuberance of Garnacha, using a more traditional Spanish style by adding 6 months of oak (Crianza); it is obviously their intent to produce a structured wine with a balance of fruit, tannin and oak structure. It's suitable for aging…but why wait when it is delicious now?
Coming up next:  After this impressive line-up of Garnacha-Grenache in the premium/mid-priced category, we'll go for the big finish, the final starbursts in the display, the big and bold celebrations of European Garnacha.
Part III : The Elegance and Intensity in Old Vine Grenache from Europe
Our final tasting of three exceptional EU's Garnacha clearly established the character of Old Vine Garnacha grapes. Each is from a different PDO; each is a reflection of that appellation; and each gives a proud display of the inherent florality of the grape, the assertive black fruits, the herbs and spices, and the amazing balance of all the elements.
PDO Somontano 2016 85% Red Garnacha, 12% Syrah, 3 % Parraleta from up to 100 years old vines. The Secastilla Valley is highly regarded in PDO Somontano. Its wines are an avatar of terroir and tradition, a wine with its own unique style. Grapes are harvested in three stages to ensure phenolic ripeness. First, Syrah. Then a local variety, Parreleta, Finally, the Garnacha. Each variety is separately macerated, fermented, and allowed to go through malolactic. Then the three are blended, stabilized and placed in French oak barrels for 8 months.The wine is elegant, splendidly balanced, with lovely violets in the nose, rich black fruits, prunes, toasty oak, dried flowers, and a finishing note of licorice.
PDO Vinos de Madrid 2014, 100% Red Garnacha from 40 to 60 years old vines. These vineyards, located southeast of Madrid and on the edge of the Sierra de Gredos, are at 870m above sea level, with harsh granitic gravel soils, an arid climate, and rugged bush-trained old vines that endure and thrive under the long hot sunny days.  Hand-harvested grape clusters are fermented in their ambient yeasts; the wine is macerated naturally, without additives, then aged in oak casks for 10 months. Bottling is done with no filtering or clarification. It delivers up the expected Garnacha red berries, then savory ripe dark plums, medicinal cherries (cough drops with menthol) and light oak spice.  This is intense wine, nervy, high acid, stern, yet laved with fruit.  Quite frankly, it needs food–and it should be on every steakhouse wine list…American, Argentine or Brazilian. It is still rare to find wines of this quality at this price.
PDO Cariñena 2015, 100% Red Garnacha from up to 100 years old vines. For the last Garnacha of the tasting…we had The Last Garnacha. Or in Spanish, Ultima Garnacha. After weeks of hard work and lack of sleep getting the crop in, just when this winery sees the finish line, there's always that last batch of Garnacha, high up the mountains, remote, difficult to pick, the oldest vines that are the last to be harvested.  Look closely at the label and you may notice a tiny stub of a pencil; that exemplifies the Ultima Garnacha, the last bit that wears you down to the nub, but you know is capable of producing magnificent old vine Garnacha with elegance and seemingly endless depth. 6 months in medium toast. French oak adds a touch of elegant spice. Generous black cherry, cool menthol, cedar, fresh-turned earth, a delightful whiff of balsamico, round, jammy, and velvety in the mouth.
Thus we conclude our ten bottle journey through the European homeland of the G varietal, from Madrid to Aragon to Catalunya and the French Roussillon. The wines show the astonishing versatility of Garnacha-Grenache with a range that few varieties can achieve so well. And yet… as impressive as the tasting is, we've barely touched on what European Garnacha-Grenache can do.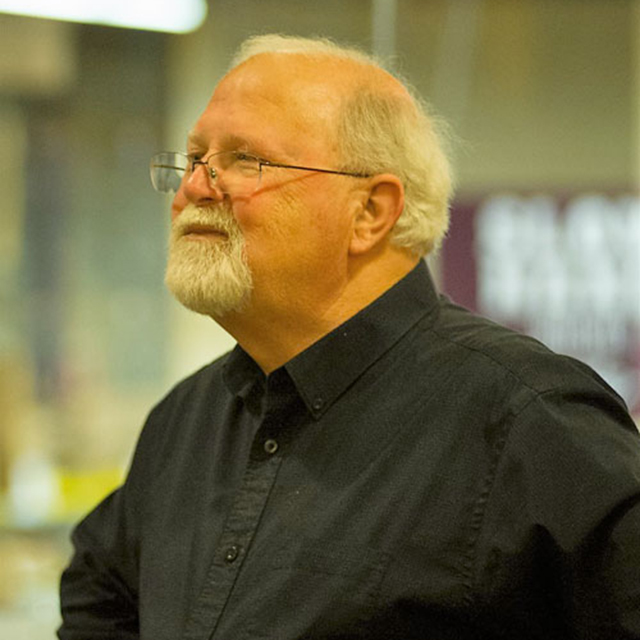 About Hoke Harden
Owner of Taste & Compare Academy (Portland OR)
An enthusiastic lover of wine and spirits, Hoke Harden left a career in academia to follow his other muse for the last 35 years, trekking around the world to the great producing regions. Recently referred to as a veritable walking omnibus of wine and spirits knowledge, he has experienced every possible facet of the world of wine and spirits as a retailer, restaurateur, bartender, buyer, wholesaler, supplier, marketer, critic, writer, competition judge and an educator. He is currently with Elixir Vitae Wine & Spirits Consultants, the Taste & Compare Academy of Wine, Spirits and Food in Portland OR, a writer and blogger, a member of the Society of Wine Educators, Wine & Spirits Instructor at Mt. Hood Community College, a Master Instructor with the French Wine Academy and a B.N.I.C. Certified Cognac Educator.