How well do you know Garnacha (a.k.a) Grenache?
Whether you're an expert or a newbie, there's always more to learn, even in 10 questions. And with a myriad of styles – red, white, rosé, sparkling, and fortified sweet – from the grape's European birthplace regions of Calatayud, Campo de Borja, Cariñena, Somontano, and Terra Alta in Spain, and France's Roussillon, there's plenty to discover. These quick either/or questions will help you better understand – and enjoy – quality PDO and PGI Garnacha/Grenache from Europe.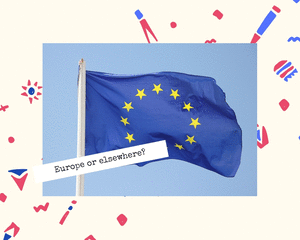 Europe or elsewhere?
Europe – it's the birthplace of Garnacha/Grenache, specifically in the Spanish regions of Calatayud, Campo de Borja, Cariñena, Somontano, and Terra Alta, and France's Roussillon.
Oaked or unoaked?
Unoaked – freshness is key for Garnacha/Grenache wines so that flavors and aromas aren't masked, though moderate use of new oak barrels can create full, soft wines.
Garnacha or Grenache?
Both! Garnacha and Grenache are the same grape.
Old vines or young vines?
Old vines – they have smaller yields, creating complex, concentrated Garnacha/Grenache wines.
The grape's European birthplace has an abundance of old vines planted in its hot, windy, dry vineyards, which is one of the reasons why it produces such high quality Garnacha/Grenache.
PDO or PGI?
Both! PDO (Protected Designation of Origin) and PGI (Protected Geographical Indication) are both European quality schemes that guarantee the authenticity, quality, and origin of European wines like Garnacha/Grenache. Learn more about European Quality Certification here.
Varietal or blended?
While Garnacha/Grenache is well known for making some of the world's finest blended GSM wines, try it as a varietal wine. Particularly when grown in European PDO and PGI regions, Garnacha/Grenache is layered and vibrant all on its own.
Meat or fish?
Round, smooth red Garnacha/Grenache wines complement a range of meats well, while white Garnacha/Grenache has the freshness and fruit flavors for fish. Rosé Garnacha/Grenache is great with both!
Spicy or sweet?
While Garnacha/Grenache pairs well with so many kinds of foods, if forced to choose, pick spicy. The acidity of dry white Garnacha/Grenache cools the palate, while the sugar in fortified sweet Garnacha/Grenache balances out intense spice.
Summer or winter?
White and rosé Garnacha/Grenache refreshes on hot summer days at the beach, while red Garnacha/Grenache has warm spices and rich fruit for cold winter evenings. Sparkling Garnacha/Grenache is perfect for sunny days and holiday celebrations alike!
Early morning or late night?
Late night, of course – it gives more time for drinking European Garnacha/Grenache!