The rise of Malbec has been phenomenal these last past decades. Its popularity is mainly due to the Argentinian approach of the grape, which exports to the US more than doubled between in 2008 respect to 2006, according to data showed by Nielsen.
The grape has come a long way, from being a blend component in Bordeaux (its birthplace) to being widely produced in several parts of the world. In addition, although there is very little left in its place of origin, Malbec continues its expansion all around New Zealand and Chile.
Its success in the US market is widely explained in the documentary directed by Sky Pinnick: "Boom Varietal" (2011). There, it is suggested that this wine has taken off in the U.S by its populist appeal, as Malbec: "it was a wine not discovered by sommeliers, but by regular wine drinkers seeking a wine that was both delicious and affordable,"
As Garnacha, Malbec is currently known as an approachable, plush red with an appealing freshness – partly due to being majorly grown at high altitudes.
This lead us to think Garnacha is not just another trend within the minds of North American consumers, but a boom grape ready to hit the taste of wine lovers worldwide, at a more than affordable price.
Garnacha wine is finding its place as Malbec did in the past, showing vines (in this case, older than Malbec's) that produce wines sold cheap are not a question of quality, but geography. The high and windy climate is perfect for winemaking as it sweeps insects and pests off sloped vineyards. In the case of the Argentinian Malbec, the melted snow from the Andes provides natural irrigation, which reduces production costs.
The same for Spain, several winemaking regions where Garnacha is grown have these characteristics of lowering costs of producing and consequently reducing the price per bottle. Moreover, it is believed that Garnacha has very good health benefits, as the grapes contain a high concentration of flavonoids –antioxidants- that may reduce the risk of coronary heart disease.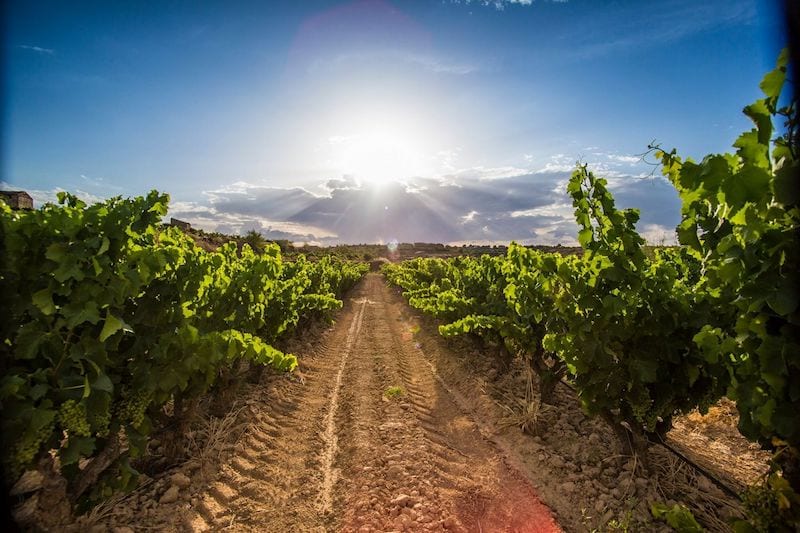 Is Garnacha the next Malbec? Make yourself aware of Garnacha's steps in the future; it could be the new big thing!
Here we give you a brief comparison of both grapes so you can judge yourself/ place your bets if Garnacha/Grenache could surpass the Argentinian boom:
Technical differences – Tasting
MALBEC
GARNACHA/GRENACHE
Definition
Purple grape grown worldwide used in red wine. It is one of the six grapes used in Bordeaux wine. Bordeaulais at origin but considered majorly as an Argentinian varietal. Grown worldwide.
Black grape grown worldwide for use in red and white wines, commonly used grape in Rhone red blends whereas in Spain and South France (concretely in Aragon, Catalonia and Roussillon) is usually made into its own grape (monovarietal).

It is one of the most grown red wine grapes in the world.

Origin
Considered French in origin, likely having originated in northern Burgundy.
Roots in Aragon region (northern Spain) based on an ampelographic study by the name of Tinto de Aragon. Spread to Catalonia, southern Spain and Southern France (Roussillon).
How does it behave?
– Thin-skinned (less resistant to frosts)

– It requires more exposure to heat and sun than other grapes.

– Late ripening in the season

– Propensity for high yields

– Always flavored and rich, but with a variable taste depending on where the grape is grown:

French style is softer and less acidic with blackberry as the predominant taste
Cahors Malbecs are heavier, very dark, the "rustic" grape version, with main aromatic notes of earthier scents like raisin, garlic and tobacco.

– It produces the best flavors in limestone-based soils.

– Best grown in hot, dry climate: extremely tolerant to heat and drought.

-Late ripening  in the season

– Its light nature allows it to make excellent rosé.

-When its yields are controlled, it produces highly alcoholic, red fruit flavored wine with spicy white pepper notes.

– Grenache oxidizes easily and often. Browns, a quality known as "bricking".

Look & Taste
Known for their inky rich colors, often described as dark purple. Malbec wines have similar flavor profiles globally: black- and other dark berries, plum, black pepper and cherry. They are also known for their earthiness.
Grenache is pale, semi-translucent, fruity, sweet, and often used to lighten and brighten heavier, bolder reds. It has the tendency to brick, or turn brownish when exposed to oxygen. Its aromas are that of sweet red fruits (candied) and spice like cinnamon and pepper.
Top Production Areas
Malbec is grown in many regions but most notably France, Argentina, Chile and the US.
Spain and France are top producers of the grape.
Pairing with:

Cuisine with a good spice profile (Middle East) and rich tomato sauces from Italy.
Roasted meats and barbequed pork.

Spicy dishes including many ethnic foods.
Mediterranean appetizers