Known as Garnacha in Spain and Grenache in France, this versatile European grape, formerly known as "tinta de Aragón" or Aragon's red after its native region, is enjoying a well-deserved return to the spotlight. And here's a little-known fact: Grenache is the seventh most widely planted grape in the world. For some time now, thanks to praise from wine industry professionals, it's more widely celebrated than ever before. Not only is it known as a component in acclaimed blended wines, but Garnacha is also featured in single-variety wines, with an unparalleled palette of colors and styles.
European winegrowers are getting on board
Grenache owes its time of glory to a vanguard of talented winegrowers responding to a renewed interest in these wines and showing an unaltered devotion to the tradition of their native terroir—the often unforgiving regions of northeastern Spain and Roussillon in southern France. This tradition is truly a careful loyalty and support throughout the years for this unique varietal, maintaining old and precious vines even when circumstances would rationally require a tear off. Under Protected designation of origin (PDO) or Protected geographical indication (PGI) quality schemed wines, they emphasize each region's distinctive character and flavour to explore different possibilities. One's first impression of European Garnacha is often simplicity. It brings to mind fruity, succulent and lightly spiced wines with a clear and bright colour—basically young reds. In reality, Garnacha wines are as varied as the regions they're produced in. It's quite the clever and crafty varietal.
Tough European old vines
Garnacha's versatility lies in its adaptability. Undeniably one of the most resilient grapes in the world, it can survive in inhospitable regions, while resisting unfavourable weather conditions and a host of diseases. While other varieties struggle, producers can generally count on the quality and strength of Grenache. The grape produces concentrated fruit each year, regardless of vintage. This is also why you can find incredible old Garnacha vines, sometimes more than a century old. These valuable vines are not only a reflection and a part of the long history of a specific place, but they are also to be treasured for their concentrated flavors, well-established roots and overall terroir and quality-driven expressions. The added quality and taste is something that can't be achieved in any way other than the patience and faith to escort such special vines and allow them to age throughout generations. The winegrowers makes the most of these old vines to produce complex, pure and extraordinarily indulgent wines. They are taking the legacy and assets of these vines and vineyards, combined with modern winemaking knowledge, to develop enticing wines. Their goal? To showcase the grape's multiple facets and the terroirs' diverse identities.
A host of varieties…
Grenache is one of the rare traditional European grapes capable of producing a vast array of wines: red, rosés, sparkling, vins doux naturel, whites… thanks to its varieties: Black (tinta or noir), peluda (or lledoner pelut) white and grey Garnacha.
When I think of Grenache, there's so much that comes to my mind, but mostly the red wines and always with a pleasant smirk. For me, they are wines of pleasure, starting with always a rich, but vibrant ruby color. In terms of style, I think of freshness and simple elegance from fresh, juicy red fruit aromas, with a touch of warmth in their condition. It has a generous intensity of aromas and taste always with a smooth and soft palate. Even in its concentrated style, it won't ever get heavy, stiff nor severe, its structure always a smooth, graceful a supple touch. Let's push the description further.
A brightly coloured selection
White and grey Garnacha grapes produce intense, rich and brilliant gold-coloured wines with aromas of white flowers, aniseed, ripe pear, brioche and hazelnut notes. While mainly used in blends, white Grenache comes into its own in its single-variety wines with complex aromas, rich textures and seductive spices. White Grenache (Garnacha blanca in Spain) is enjoying a surge in popularity. The white variety is the result of a mutation in the red grape, both are genetically identical. It's the spirit of a red grape with a white exterior. Like its crimson cousin, it has generated a lot of interest thanks to its textures and flavours.
Garnacha's versatility doesn't stop there— beyond the succulent, brightly colored reds that may range from a rather pale vermillion to deep mahogany in its more concentrated styles, the possibilities are endless!
Grenache-based rosés are known for their brilliant colour. With floral aromas and notes of ripe berries, these rosés are fresh on the palate.
Garnacha also represents a significant portion of lightly fortified wine or natural sweet wines, Vins Doux Naturels (VDN) and other fortified wine production in the Roussillon region. These fortified wines wouldn't be the same without Grenache's features, whether the grape is red, white, or grey, aged in the oxidative way or not.
Just to prove how versatile this grape is, it's even used in sparkling wine production. It's one of the nine permitted varieties for Cava and we can find other expressions sparingly throughout Europe. The juicy pulp is ideal to provide balance, aromatic character and the required acidity.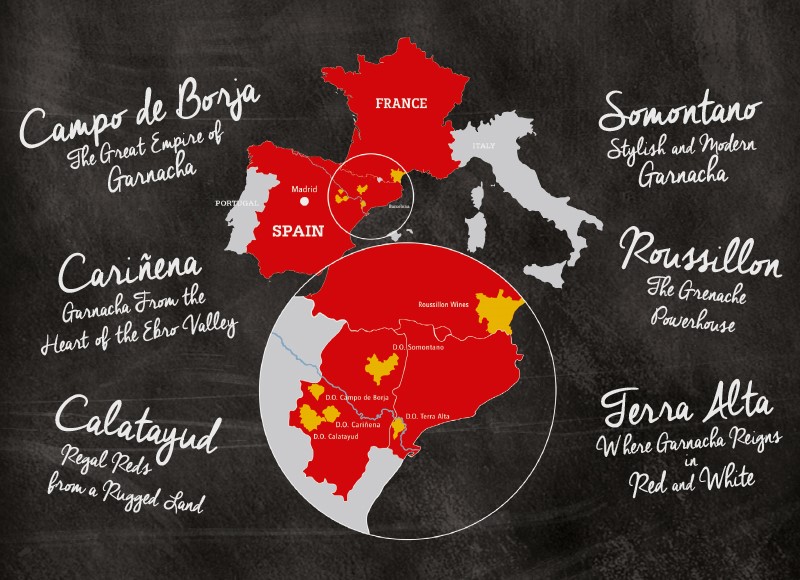 Garnacha may be found throughout the whole European classification system, from PGI (Protected geographical indication) quality level, to PDO (Protected designation of origin) quality level with a vast Array of appellations. Those include, but obviously aren't limited to Calatayud, Campo de Borja, Cariñena, Somontano, Terra Alta and plenty of the Roussillon appellations: AOP Côtes du Roussillon, AOP Côtes du Roussillon Villages, AOP Côtes du Roussillon Villages Les Aspres, AOP Côtes du Roussillon Villages Caramany, AOP Côtes du Roussillon Villages Latour de France, AOP Côtes du Roussillon Villages Lesquerde, AOP Côtes du Roussillon Villages Tautavel, AOP Maury Sec, AOP Collioure, IGP Côtes Catalanes, IGP de la Côte Vermeille, AOP Rivesaltes, AOP Maury Doux, AOP Banyuls, AOP Banyuls Grand Cru. These classifications are of very important interests as they represent not only an acknowledgment of the quality but also offer clear European standards over the style of a specific place, potential in term of excellence. (More info at https://ec.europa.eu/info/food-farming-fisheries/food-safety-and-quality/certification/quality-labels/quality-schemes-explained_en)
A range of food-wine pairings
Imagine a full tasting menu where you can try anything you want. European Garnacha—in all its varieties and styles—can be paired with any course and food from anywhere in the world. Juicy red meat? Get a bottle of old-vine Garnacha. A light seafood appetizer? Nothing's better than a crisp white Grenache with mineral notes or even sparkling. And why not enjoy a charcuterie plate with your favourite red or rosé? Or a cheese platter with a hardier red or fortified sweet wines? Even add a cava as aperitif and you got a full tasting menu.
So next time you're at the liquor store looking for the perfect bottle, think of these quality European wines. There will most certainly be a Garnacha to meet your needs, whatever they may be.
About Joanie Métivier.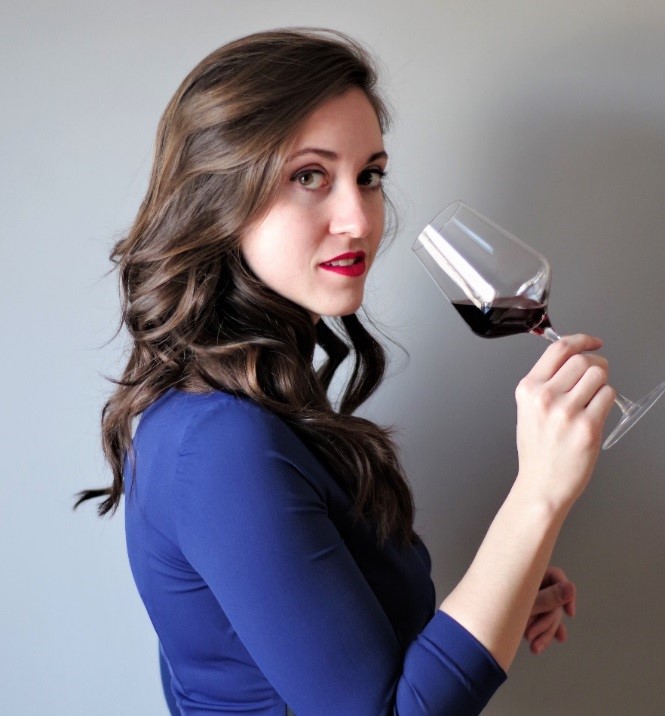 Sommelier, wine journalist, influencer, whiskey ambassador, Joanie Métivier has several strings to her bow. She is certified CMS (Court of Masters Sommeliers), WSET level 3 with distinction and ISG. These titles will have her obtained a sommelier position at the restaurant "Cellier du Roi", in Bromont, Canada, with a beautiful and well-diversified wine list that has been rewarded by the magazine "Wine Spectator" for two consecutive years under her care.
Considered the youngest wine columnist in Quebec, you can read her discoveries on her personal and informative blog, Joaniemetivier.com, as well as on her new online magazine, Wine Tourism Mag.
Websites: http://joaniemetivier.com/ & http://winetourismmag.com/
Facebook: https://www.facebook.com/joaniemetivier
Instagram: https://www.instagram.com/joaniemetivier/
Twitter: https://twitter.com/Joaniemetivier