ORIGIN OF


GARNACHA / GRENACHE

While Garnacha/Grenache is now one of the most widely planted grapes in the world, its origin go back to Europe in the region of what is now eastern Spain / southern France. Thriving in the hot, dry Mediterranean climate, the varietal soon spread to the south and east, first to Catalonia and then to other places where the Crown of Aragón expanded throughout the 12th-17th centuries (Corsica, Sardinia, southern Italy, Sicily, Croatia and even Greece). In the 18th and 19th centuries, Garnacha/Grenache continued its expansion and spread to non-European regions, including Australia, North Africa and California.

Throughout its expansion, Garnacha/Grenache has gone through several stages along the years. The grape has both been used as a workhorse variety as well as blended with others to produce some of the most renowned wines in the world, but it has not stepped into the spotlight until recently.

"Grenache has basically been disregarded for the last century.
I find myself buying more and more Grenache based wines as I get older"
Robert Parker, Wine Advocate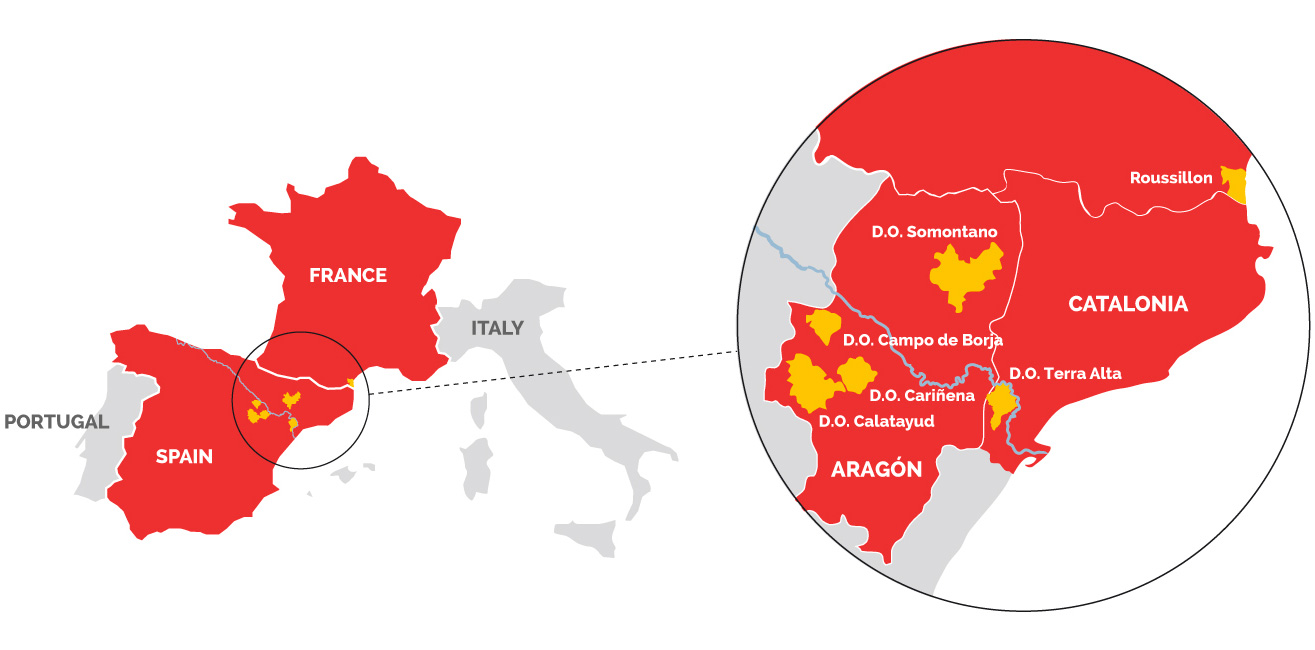 The Wines Today
In the last 20 years, a new generation of winemakers in the original birthplace of Garnacha have taken a new approach to producing Garnacha varietal wines. By controlling yields, taking advantage of the old vines, and applying modern techniques in combination with old traditions, they are producing Garnacha wines of exceptional character and concentration.
Garnacha is now starting to come into its own as a varietal wine, and is ready to take to the world stage alongside Cabernet Sauvignon, Malbec and Chardonnay.
Terroir
Garnacha is ideally adapted to the climate of hot and windy Mediterranean valleys. It ripens late, so it needs hot, dry conditions. Its strong wood canopy and upright growth helps it resist the northerly winds in those valleys. Garnacha's long and deep roots are well suited to water stress. In fact, Garnacha prefers hot, dry soils that are well drained, where it can concentrate flavors and aromas, especially with old vines.

Protected Designations of Origin
The Protected Designations of Origin located in the area where Garnacha originated (Calatayud, Campo de Borja, Cariñena, Somontano and Terra Alta in Spain and the French appellations that focus on Grenache under the Conseil Interprofessionnel des Vins du Roussillon (CIVR) are working with the European Union to share information on the high-quality monovarietal wines.
By ensuring ongoing quality by relevant checks, controls and traceability systems that differentiate the products and raise their profiles, each PDO produces wines that share common traits but are unique to their region. PDO is the Protected Designation of Origin. It officially guarantees the origin and quality of products with a history and tradition behind them. The PDO was created by the European Union to help consumers by informing them about the specific features of the products, and to protect their geographical appellations.
For more info on each PDO, click on their logo below: