The wines elaborated with European Garnacha/Grenache are very versatile and diverse, so we can pair them with a large number of dishes typical of the United States cuisine. Pairing food with Garnacha wine elevates the gastronomic experience and surprises diners with its aroma and flavor.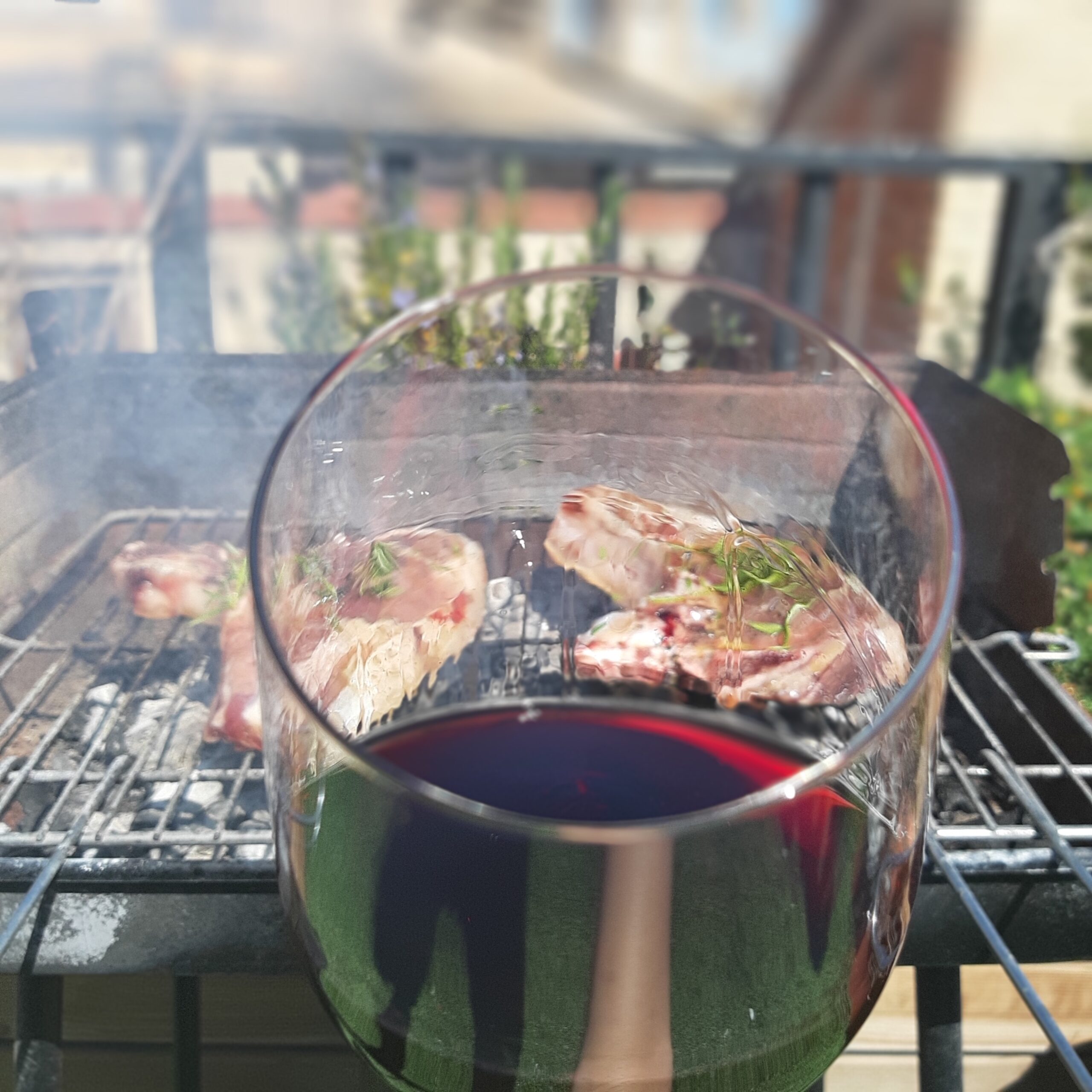 Fruity Grenache and light bodied red wines can be served with pork, Indian curries o burgers. A full-bodied red wine is the perfect to combine with ribs, grilled sausages o lamb chops. These are just examples; there are thousands of possibilities to pair Garnacha with the best culinary creations.
In the United States, most of the frequent and popular dishes such as pizza and hot dogs don't necessarily ask for an American wine; on the contrary, in many cases, what works best are the European Garnacha/ Grenache Quality Wines.
One of the most popular dishes in the country are hamburgers: they can be paired with any wine, therefore, we can opt for a full-bodied red wine if the hamburgers are meat dishes, while if they are vegan, we could opt for a rosé that enhances its flavor.
A full-bodied red Grenache is the perfect with meat: In general, with this food the perfect pairing is formed. From roasted or grilled lamb, white meats with strong sauces, to simple stews or stews with aromatic pork, duck or poultry meat. And for the holiday celebrations it is ideal to pair with turkey or red meat made on the barbecue. If, in addition, you use different sauces like a Mango Chutney to accompany it, you will pleasantly surprise your guests. If what you like most is diverse food, you can try a Garnacha medium bodied white or red with Indian food or even with a Tajine from Morocco; it's a good combination.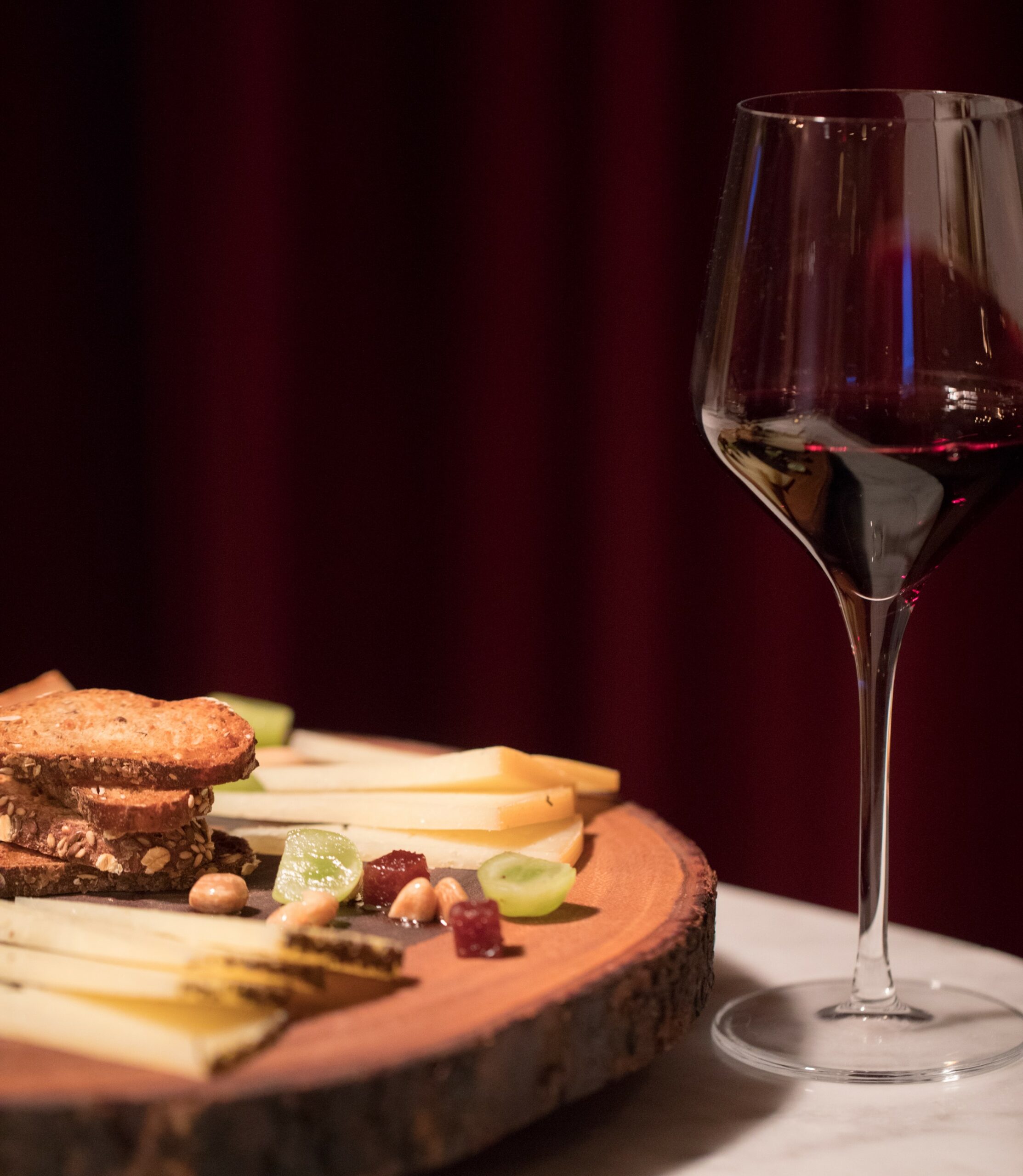 Chic appetizer: If you want to give your holiday dinner a chic touch, a cheese board accompanied by a salad and a good Grenache wine will do the job for you. Let your guests be filled with the essence of "less is more."
Garnacha with fish: If you opt for baked tuna or if what you have is a softer fish, one option is to resort to a Garnacha rosé wine. Fresh seafood pairs wonderfully with full white wine of this variety. And do not forget the wonderful opportunity to match a spicy fish stew with a gentle and mineral red Grenache.
Complex salads and vegetables: Garnacha light bodied white wine is ideal for salads in which you can incorporate nuts, chicken, sauces, etc. If you accompany it with vegetables, this variety combines better with pepper and eggplant. If what we are going to cook a rice or pasta, choose meat rice, risottos and pasta with some meat.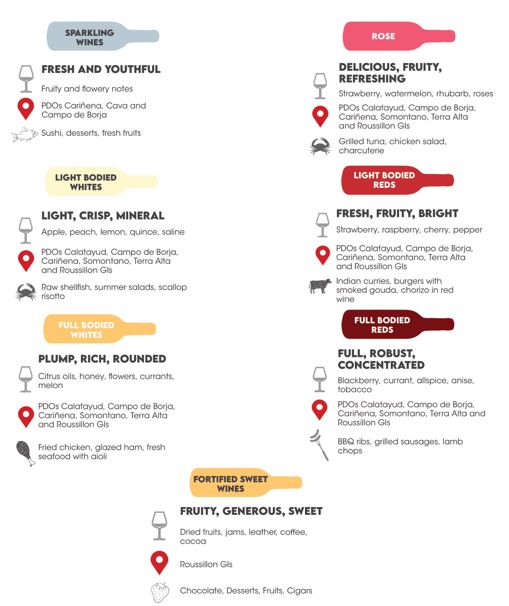 Garnacha (sparkling) with sushi, desserts o fresh fruits: be confident to taste a sparkling wine these succulent dishes; a good surprise for your family and friends at upcoming celebrations. For sweets and chocolates nothing better than a fortified sweet wine.