What's not to love about Grenache, the versatile European grape variety that has been able to adapt to so many different terroirs, vinification techniques and winemaking styles? Whether you call it Grenache, Garnacha or, like some, "the Pinot Noir of the South," this ever-more-popular grape is more than a passing trend.
The variety is widely grown around the world. Because it thrives in dry soils without the extensive irrigation required for many other grapes, Garnacha-based wines are increasingly eco-friendly—a quality that's becoming more and more important for today's consumers.
All colours for any occasion 
It's easy to forget that Garnacha is not only a red wine grape. Varieties exist in many different colours.
Whether blended or monovarietal, Granacha expresses itself wonderfully in reds, whites, rosés, sparkling wines, dessert wines and Vins Doux Naturels. Indeed, you can happily spend a whole evening sipping nothing but European Garnacha. A sparkling Garnacha white or voluptuous rosé as an apéritif, a mineral white with hints of salt served with an appetizer of fish and a strong red paired with grilled meat—wine lovers will appreciate this variety's many facets. Capping off the meal with a European amber or fortified red, a Grenache with velvety notes of blackcurrant and baked blackberry is exquisite alongside aged cheddar, blue cheese or any chocolate dessert. Is your mouth watering yet?
European terroir wines
Grenache grown in sandy soils is known for its light tannins. In high-altitude limestone terroirs, it takes on a pleasant freshness and mineral notes. The full-bodied varieties cultivated in stony soils with heat-retaining rocks that warm the grapes at night possess a deep and pronounced fruitiness.
Under the added influence of a Mediterranean European climate, you can see why Garnacha is an ideal choice for so many top wines produced in France and Spain.
Ever more refined
For several years now, winemakers in northeastern Spain and southern France have been honing their techniques. Garnacha has benefited from upgraded facilities, ongoing improvements to production standards and the push for European vineyards to stay competitive on the international market. Thanks to these developments' great success, this grape continues to surprise and its appeal endures.
The success of European PDOs and IGPs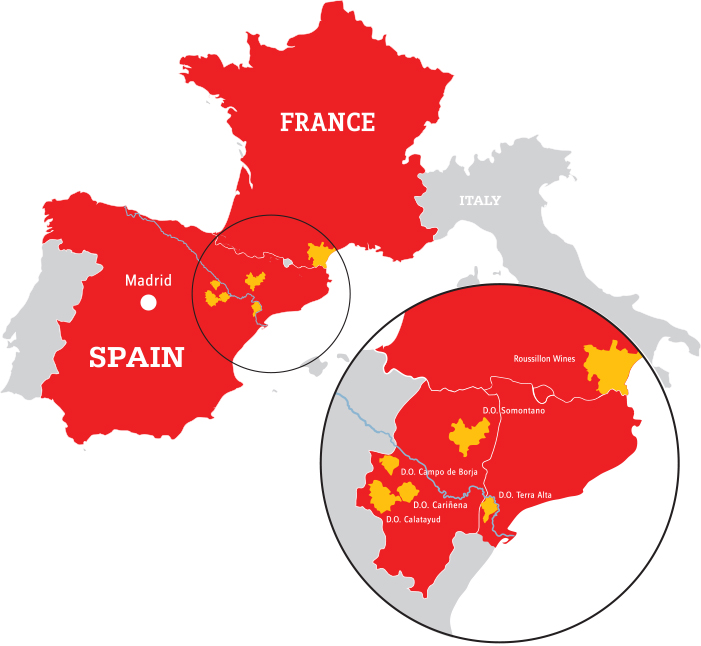 Garnacha's European birthplace has worked to make consumers fall in love with this unique and versatile grape from a distinctly recognizable vine. Sometimes more than a hundred years old, Grenache vine stocks are often twisted and weathered, embodying the variety's impressive resistance to time and setbacks.
Northeastern Spain and the Somontano region are credited with bringing this grape to the world. The continental climate tempered by the Pyrenees mountains has a wide temperature range between day and night, which brings a nice complexity to the wine.
Grenache thrives in the Cariñena appellation, where it is widely planted for both reds and rosés. This is another area where significant night and day temperature differences allow grapes to mature slowly and produce well-structured wines. The region is home to "vino de las piedras" (wine of stones), thanks to its stony soil that captures the sun's heat during the day and warms the grapes overnight.
In the Campo de Borja appellation, located between La Rioja and Catalonia, Garnacha vines have proven able to thrive in the unique Spanish terroir, offering some of the best value for money as they are exported around the world. Tempranillo varieties may even see themselves unseated in time, as the region's iconic winemakers seek to reinforce Garnacha's pedigree. Fans of both French and Spanish vinification techniques can appreciate the elegance of Garnacha's flavour and its hints of rustic spice. The best of both worlds!
And what about Garnacha Blanca, cultivated in the terroir of the Terra Alta appellation? A third of the worldwide production of this white variety takes place in the region. These wines are delicate on the nose, but only reveal their true potential on the palate, with a burst of complex and intense flavours to thrill your taste buds. They also age surprisingly well. As for Catalayud, this intense red Garnacha is mainly known for its notes of fleshy fruits and strong structure, but also offers a nice minerality thanks to its unique high-altitude terroir.
There is also an inspiring tradition of Grenache cultivation in Roussillon, the enchanting region of France dominated by the Canigou, the Catalans' sacred mountain. The region boasts an ideal Mediterranean climate with an average of 320 sunny days per year, a wide variety of terroirs and a winemaking tradition that dates back nearly 3,000 years. It's no wonder Grenache has flourished there, accounting for 38% of the region's viticultural surface area today.
An example of adaptation? Over 15 years ago, growers of the Maury appellation changed direction to favour dry wines, adjusting production trends to match evolving consumer interests. The Maury Sec appellation was officially introduced in 2011. These Roussillon vineyards were able to counteract dwindling demand for fortified wines such as porto, Madeira and Muscat—a great example of updating vinification methods to get ahead of market trends and consumer habits.
Intensity and "drinkability"
Spicy, full-bodied European wines with a strong structure to enjoy with good company with grilled meat; fresh reds with rich, luscious notes of fruit; silky or bright whites or rosés—Grenache offers something for everyone. Whether you're interested in "drinkability" or not, the intense aromas and exquisite flavours in a glass of red, white or rosé Grenache are sure to impress.
And of course, the pleasure of a distinctively European wine never fails to satisfy.
—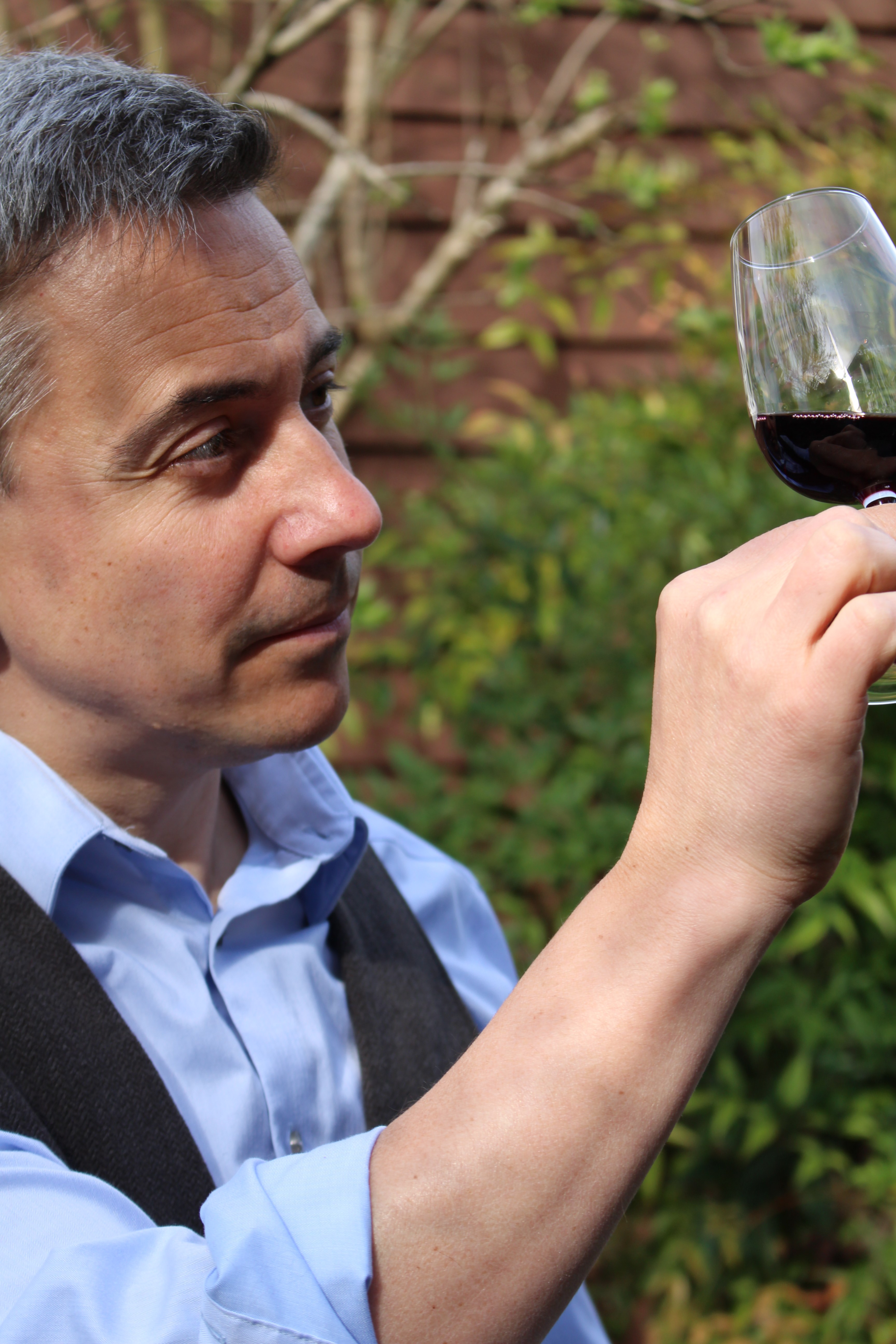 Frédéric Arnould is passionate about wine.
He has a constant desire to expand his knowledge to the public as a journalist, columnist, holder of the prestigious Wine and Spirit Education Trust Diploma (WSET) and sommelier accredited by the Canadian Association of Professional Sommeliers. Based in Montreal, he constantly update his blog in order to share his love for the taste of fine wines on his web site  toutsurlevin.ca.