DISCOVER THE EUROPEAN GRAPE

YOU NEVER KNEW YOU KNEW

The Mediterranean Grape

Welcome to the wonderful and exciting world of Garnacha/Grenache, one of the oldest and most widely planted wine grapes in the world! If you feel unfamiliar with the wines it produces, no worries! The truth is that you have most likely experienced one (or many) already!
While most people know Garnacha/Grenache for playing a role in GSM blends, a new generation of winemakers in Europe, and particularly in its birthplace of Eastern Spain and Roussillon, is crafting innovative wines in which the grape plays the starring role. A sip of these new wines is enough to understand European quality Garnacha/Grenache's ability to deliver complex, structured and well-balanced wines.
Join us in the discovery of this unique grape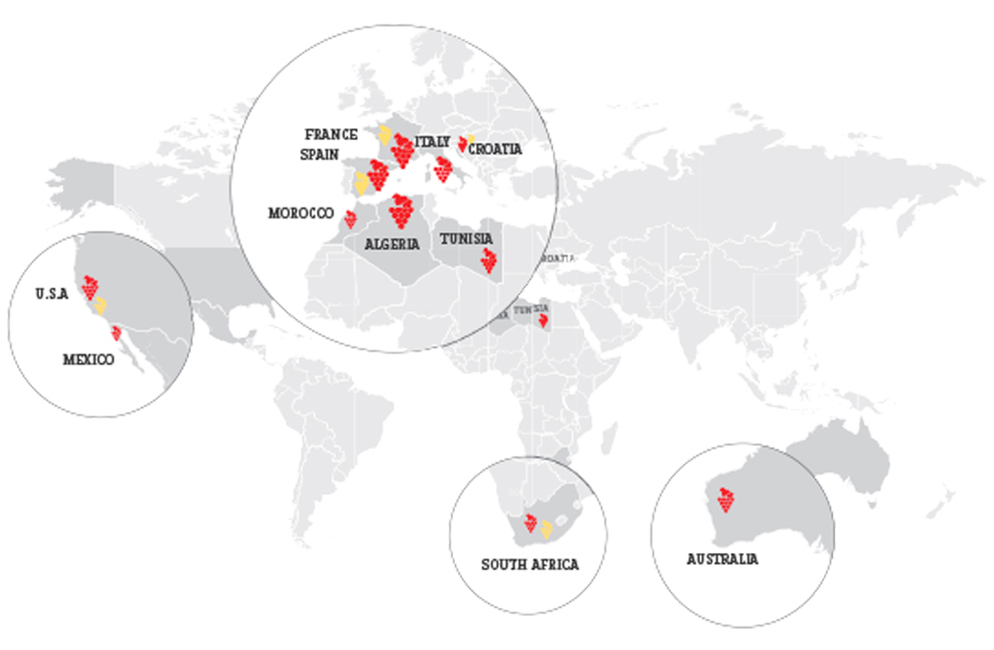 Luscious reds. Full bodied whites. Intense roses
Garnacha is the only mainstream grape with red and white varieties. The wine itself can be red, white, and rose. Also, most experts agree that Garnacha conveys the expression of soil, landscape and climate like no other wine. With that combination, Garnacha is one of the most versatile and diverse varieties.
You can pair a whole meal with different Garnacha wines: a rosé as an aperitif, a white with the starter, a red with the main course, a red or fortified red to accompany cheese, then wind things up with a fortified white for dessert.
Taste Profiles
Always very expressive and showcasing a full range of aromas and flavors, these wines speak loudly of their place of origin by clearly transcribing their respective terroirs. It is widely recognized that the Euro-Mediterranean climate, soil and landscape reveal the grape's most intense and enamoring expressions.

· Ranging from sweet, fruity to mineral, petrol
· Full bodied sweet due to its usually high graduation
· Will scents

· Distinctive colours resulting from diverse elaborations
· Strawberry flavours
· Intense aromas

· Lush, fruit forward
· Aromatic
· Easy to approach
· Works well with foods of all sorts

· Lush, fruit forward
· Aromatic
· Easy to approach
· Works well with foods of all sorts

· Balanced wines
· Rounded, aromatic
· Works well with meats, cheeses, …

· Distinctive styles and flavors depending on color and ageing
· Intense aromas