What is a PDO and PGI?  Why is it Important for Wine Consumers to Know? 
Did you know these logos?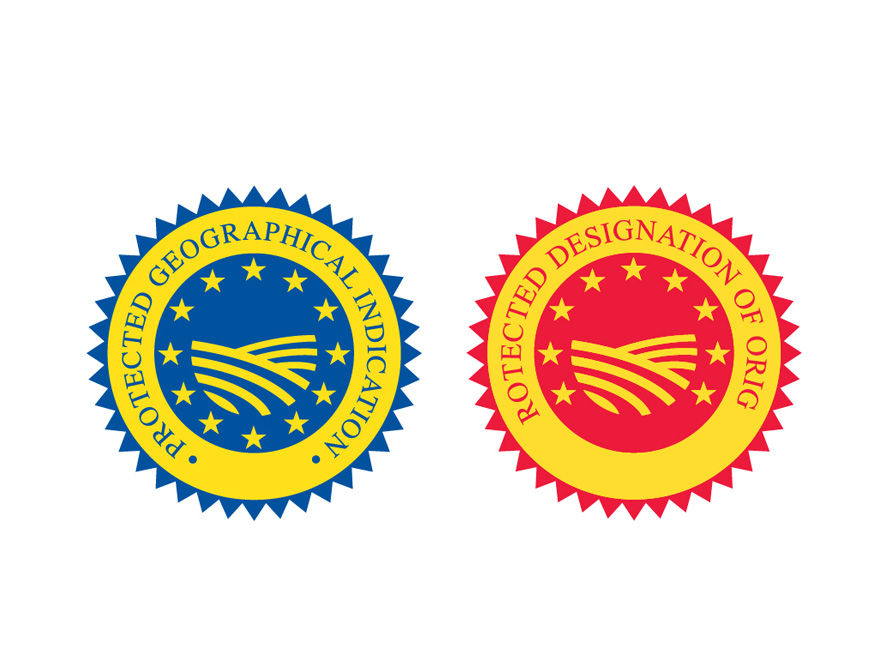 There are several schemes that are set in place to successfully ensure the quality of the product. Some of these include Geographical Indications (GI), and more specifically under that umbrella, Protected Designation of Origin (PDO) and Protected Geographical Indication (PGI). Geographical Indications emphasize the relationship between the specific geographic region and the name of the product, where a particular quality, reputation, or other characteristic is essentially attributable to its geographical region. This system was created by the European Union to help consumers by informing them about the specific features of the products, and to protect their geographical appellations specific features.
By ensuring ongoing quality by relevant checks, controls, and traceability systems that differentiate the products and raise their profiles, each GI produces wines that share common traits but are unique to their region. They officially guarantee the origin and quality of products with a typicity and tradition behind them.Protected Designation of Origin, often times abbreviated as PDO -and known as Denominación de Origen Protegida (DOP) in Spanish or Appellation d'Origine Protégée (AOP) in France- denotes that those product names have the strongest links to the place in which they are made. In the case of wine, this guarantees that the grapes come exclusively from the geographical area where the wine is made. Whereas Protected Geographical Indication (PGI) or IGP (Indication Géographique Protégée or Indicación Geográfica Protegida means that at least 85% of the grapes used have to come exclusively from the geographical area where the wine is actually made.
Garnacha or depending where you are, Grenache, is now one of the most widely planted grapes in the world, with its European origin and to this day proudly highlighted in what is now Spain and France. With its volume, it is regulated into several appellations that showcase the different characteristics of the area it is coming from.
The Protected Designations of Origin located in the area where Garnacha originated (DO Calatayud, DO Campo de Borja, DO Cariñena, DO Somontano and DO Terra Alta in Spain) and the French appellations that focus on Grenache (14 AOPs), as well as 3 IGPs under the Conseil Interprofessionnel des Vins du Roussillon (CIVR) are working together with the European Union to share information on the high-quality Garnacha/Grenache monovarietal wines under such quality schemes.
By controlling yields, taking advantage of  old vines, and applying modern techniques in combination with old traditions, they are producing wines of exceptional character and concentration all whilst the EU ensures the utmost protection and labeling for consumer transparency and satisfaction.